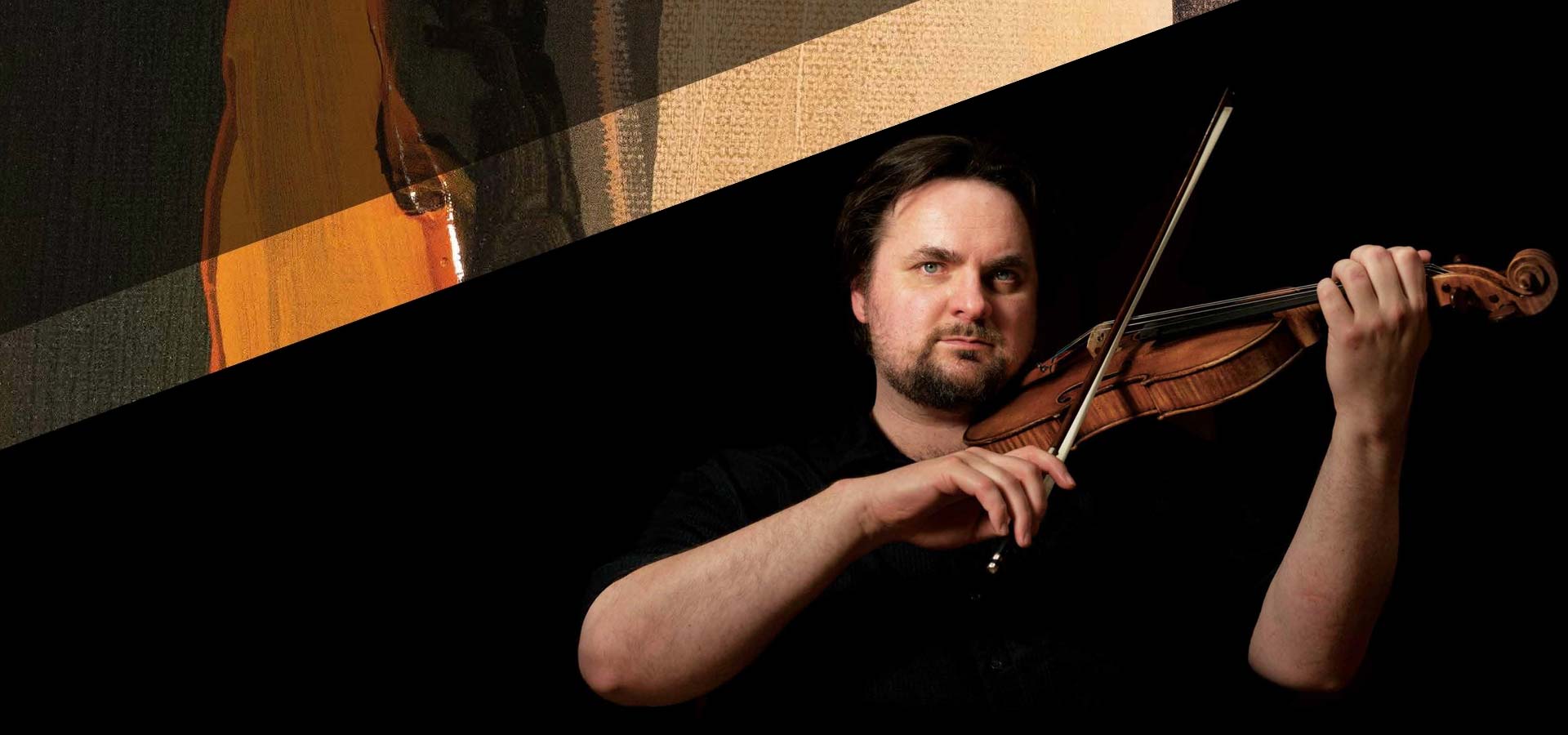 Dan Flanagan has built a multifaceted career as a soloist and orchestral musician, performing concertos with orchestras in California and recitals throughout the United States and Europe. Flanagan currently serves as Concertmaster of the Sacramento Philharmonic and Opera, Concertmaster of West Edge Opera, and Instructor of Violin at University of California, Berkeley. Described as a "stellar musician" (Nevada Reviews) and "superior violinist" (Piedmont Post), he has been praised for his "exquisite tones" and "forthright brio" (Sacramento Bee), and his "solos were excellent" (San Francisco Classical Voice).
In the 2022-23 season he performs solo recitals in New York City, San Francisco, Berkeley, Sacramento, Oakland, Houston, Los Angeles, San Diego, Chicago, Rome, Perugia, Bordeaux, London, and Paris.  His program, The Bow and the Brush, includes 20 newly composed solo violin pieces inspired by paintings and sculptures. 16 of these pieces were premiered at Opera America's National Opera Center in New York City on October 3rd, 2022. Of this performance, New York Concert Reviews said "Mr. Flanagan is an excellent violinist, versatile enough to serve as a blank canvas (and I mean this in the best sense) for the diverse styles of all the composers. His generosity and intelligence informed the entire program, and both of his own compositions affirmed his talent and (especially in the encore) his virtuosity." Several of these compositions can be seen on his Youtube channel (recommended by KDFC, The Strad, and SF Classical Voice) and heard on his album, The Bow and the Brush, which will be released by MSR Classics in early 2023. He will perform the program at Carnegie Hall in the 2023-24 season. The composers and artists involved in this project can be seen below.
A dedicated orchestral player, Flanagan has performed as concertmaster with the Oakland Symphony, Santa Rosa Symphony, California Symphony, California Musical Theater, Festival Opera of Walnut Creek, Symphony San Jose, Modesto Symphony, Opera Parallèle, Merced Symphony, and Symphony Napa Valley. He performs regularly with the San Francisco Opera and Ballet and records film, television, and video game soundtracks with the Skywalker Symphony Orchestra. Frequently featured as soloist with the Sacramento Philharmonic and Modesto Symphony, Flanagan has also performed with the American River Chamber Orchestra, Bear Valley Symphony, Reno Baroque Ensemble, UC Davis Symphony, and the Adelphi Chamber Orchestra.  Dan has had the privilege to collaborate with some of today's greatest composers including John Adams, Krzysztof Penderecki, Esa-Pekka Salonen, Jennifer Higdon, Kaija Saariaho, Mason Bates, Bright Sheng, John Corigliano, Libby Larsen, Nathaniel Stookey, and Philip Glass. He's performed all over the world with legendary conductors such as Valerie Gergiev, Sir Neville Marinner, Erich Kunzel, Gerard Schwartz and Loren Maazel.
As a chamber musician, Flanagan has performed with the Chamber Music Society of Sacramento, the Oregon Bach Festival, Earplay, Midsummer Mozart Chamber Players, Gold Coast Chamber Players, and has collaborated with pianists Leon Fleisher and Jon Nakamatsu. A founding member of the Farallon Quintet, with whom he has performed throughout Northern California, he has commissioned and premiered numerous works, several of which can be heard on their CD, "Farallon Quintet Originals." As a member of the Eco Ensemble, he performs regularly at Cal Performances, performed at La Biennale in Venice, Italy, and was featured in Strings Magazine. To read the article, click here. He recently formed Trio Solano with Paul and Victoria Ehrlich, performing new music and standard repertoire throughout the San Francisco Bay Area. In 2022, Trio Solano was awarded a Silver Medal from Global Music Awards.  Dan also performs frequently with pianist Miles Graber.
Flanagan plays on a violin made in 1840 by Jean-Baptiste Vuillaume. This fiddle was once owned by the celebrated American virtuoso Albert Spalding, then by Phillip Ruder, former concertmaster of the Cincinnati Symphony. It is a bench copy of Paganini's "Il Cannone" Guarneri del Gesù and an exact twin of the Ysaÿe Vuillaume.
In addition to playing classical music, Dan has had the opportunity to perform with pop icons including Johnny Mathis, The Who, Anne Murray, Andrea Bocelli, Marie Osmond, Weird Al Yankovic, Wayne Newton, Donna Summer, and Warren Haynes. In his 20's, he played with the US tours of The Lion King, West Side Story, and The Color Purple. His first gig was in high school, when he pretended to be an Irish fiddler in P.J. Finnegan's Pub in Westwood, NJ., then as a salon violinist at the Italian restaurant across the street. In 2011, he participated on a concertmaster panel for the Conductor's Guild Annual Conference in San Francisco, and in 2015 he served as an expert witness in a court case, discussing common violinist injuries.
Flanagan began violin lessons with Louise Butler and the Suzuki Method in Ridgewood, NJ, at the age of four, then studied with Janina Robinson, a student of Louis Persinger. In high school, he studied with Lewis Kaplan in New York City and with Hal Grossman at Interlochen Arts Academy. Dan received his Bachelors Degree at Cleveland Institute of Music studying with Linda Cerone and his Masters Degree studying with Fritz Gearhart at University of Oregon, where he was a Graduate Teaching Fellow. Additional studies were with Isaac Malkin, Charles Castleman, and Ron Patterson.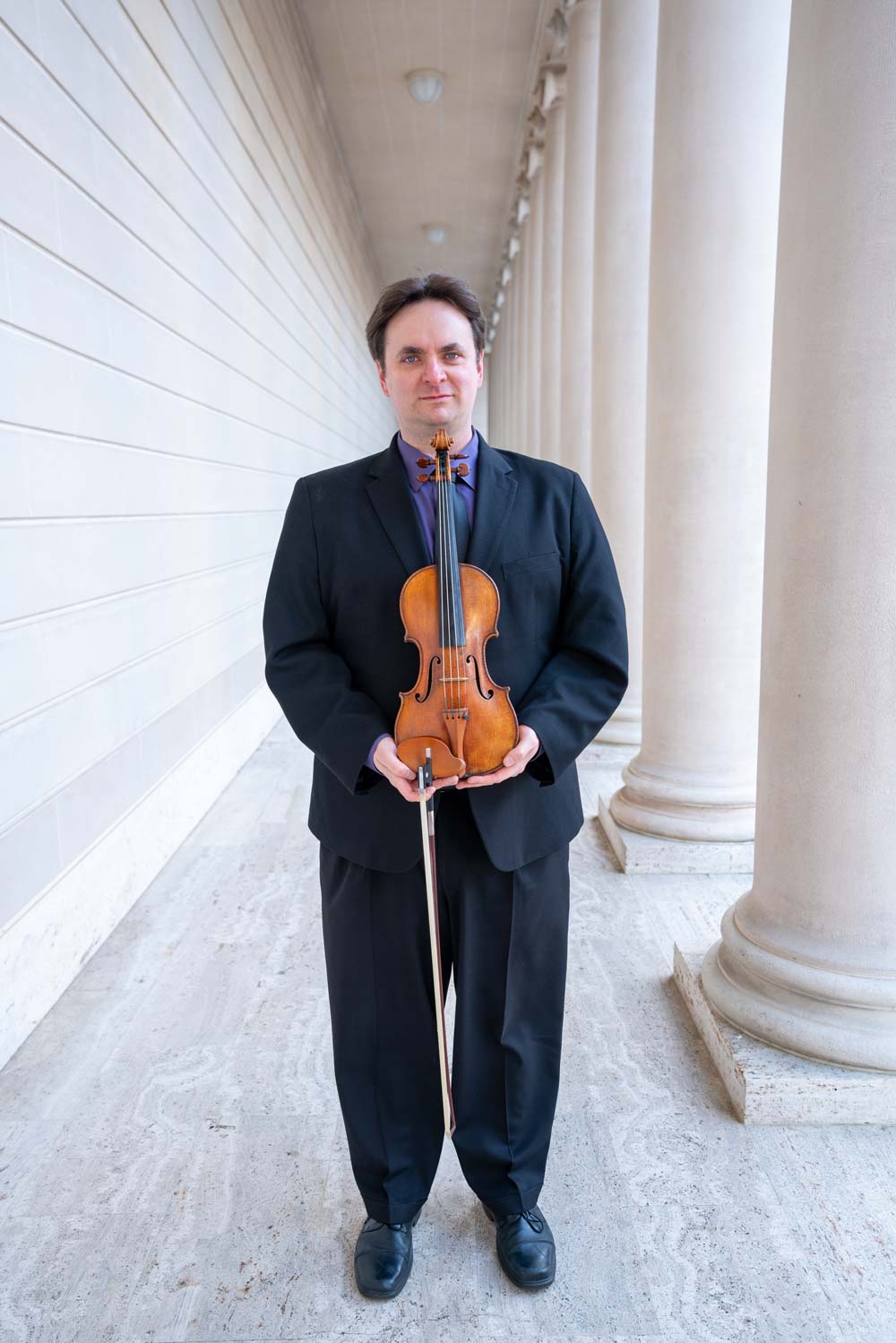 Nathaniel Stookey: Shadow Breaking, after the painting by Rachel Dwan
Peter Josheff: Same Old Sadness, after a painting by Peter Canty
Michael Panther: Oil on Canvas, after a painting by Paul Gibson
Libby Larsen: The Only Way Through is Slow, after a painting by Nikki Vismara
Trevor Weston: Notre Dame au milieu de l'eau et du ciel, after a painting by Albert-Marie Lebourg
Jim Stephenson: Guillaumin, after a painting by Armand Guillaumin
Evan Price: Blue Swan, after a sculpture by Sean O'Donnell
Cindy Cox: Into the Light, after a painting by Victoria Veedell
Shinji Eshima: The Collection, after a painting by Paul Gibson
Eric Schwartz: Placed Into the Abyss, after a painting by Paul Gibson
Edmund Campion: Splits (Le Grand Ècart), after a pastel drawing by Ludovic-Rodo Pissarro
David Mecionis: Couple au lit, after a painting by Jean-Louis Forain
Linda Marcel: Raven's Dance, after a painting by Nina Fabunmi
Maija Hynninen: Island, after a painting by Elaine Pratt
Jose Gonzalez Granero: Cadenza II, after a painting by Robert Antoine Pinchon
Emily Onderdonk: Arredondo, after a mixed media collage by Carrington Arredondo
Jacques Desjardins: Émergence, after a painting by Susan Bostrom-Wong
Catherine Neville: Danses, after the lithograph by Henri Fantin-Latour
Catherine Neville: Idyll, after a painting by Paulémile Pissarro
Jessica Mays: And miles to go…, after a painting by Albert Malet
Amadeus Regucera: Violin Concerto TBA, to be completed 2023-24
Sebastian Kelso: TBA, after a painting by Bernard Gussow
"I can enthusiastically recommend Dan Flanagan as a performer and teacher. He is a thoughtful and dedicated musician who is very easy to work with."