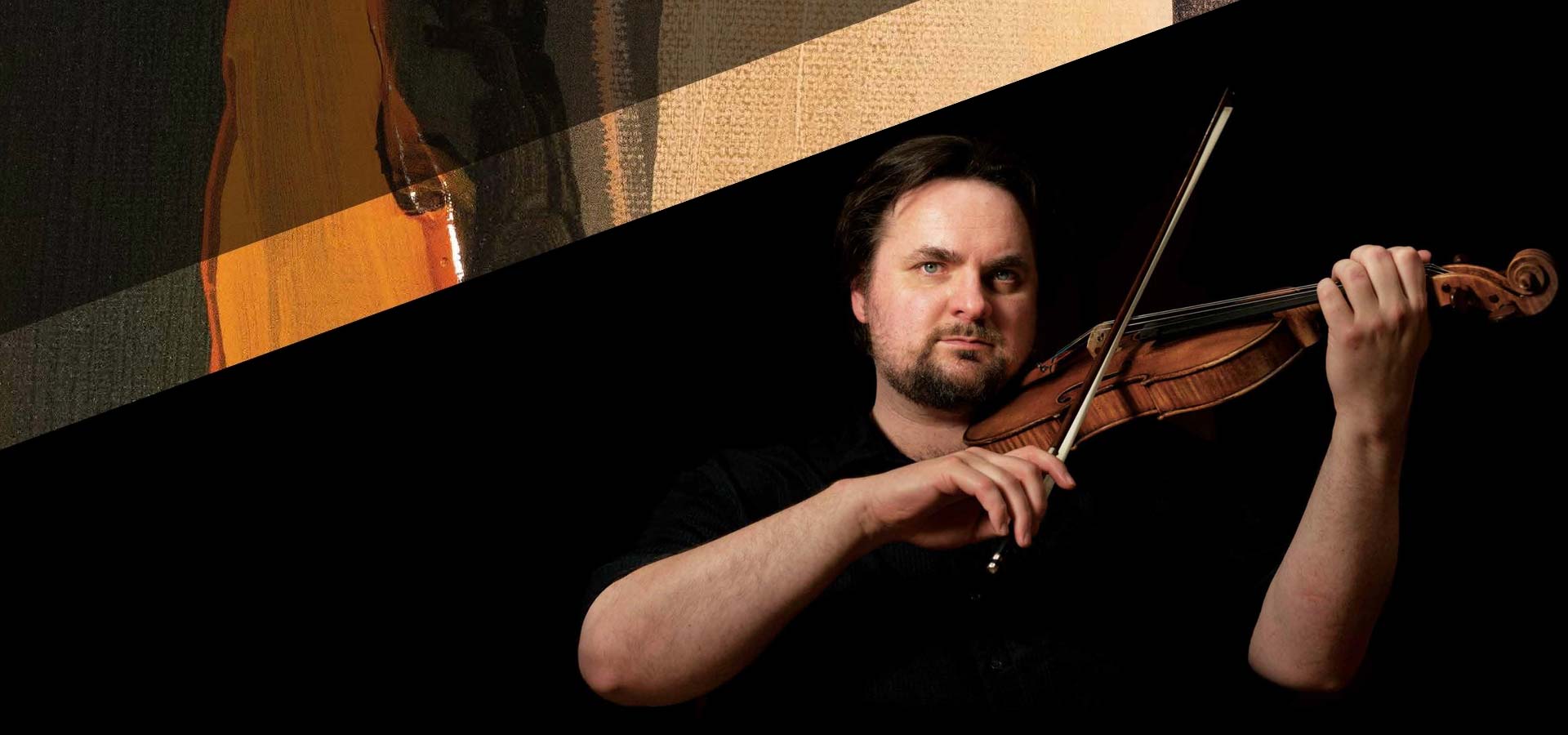 Dan Flanagan has built a multifaceted career as a soloist and orchestral musician, performing concertos with orchestras in California and recitals throughout the United States and Europe. Flanagan currently serves as Concertmaster of the Sacramento Philharmonic and Opera, Concertmaster of West Edge Opera, and Instructor of Violin at University of California, Berkeley.  Described as a "stellar musician" (Nevada Reviews) and "superior violinist" (Piedmont Post), he has been praised for his "exquisite tones" and "forthright brio" (Sacramento Bee), and his "solos were excellent" (San Francisco Classical Voice).
The 2022-23 season includes solo recitals in New York City, San Francisco, Berkeley, Oakland, Sacramento, Houston, Los Angeles, San Diego, Chicago, Rome, Perugia, London, Bordeaux, and Paris.  His program, The Bow and the Brush, includes 23 newly composed solo violin pieces inspired by paintings and sculptures.  16 of these pieces were premiered at Opera America's National Opera Center in New York City on October 3rd, 2022.  Of this performance, New York Concert Reviews said "Dan Flanagan is a true Renaissance man. Mr. Flanagan is an excellent violinist, versatile enough to serve as a blank canvas (and I mean this in the best sense) for the diverse styles of all the composers.  His generosity and intelligence informed the entire program, and both of his own compositions affirmed his talent and (especially in the encore) his virtuosity." Several of these compositions can be seen on his YouTube channel (recommended by KDFC, The Strad, and SF Classical Voice) and heard on his album, The Bow and the Brush, which was released by MSR Classics in March, 2023. He will perform the program at Carnegie Hall in March of 2024.
A dedicated orchestral player, Flanagan has performed as concertmaster with the Oakland Symphony, Santa Rosa Symphony, California Symphony, California Musical Theater, Festival Opera of Walnut Creek, Symphony San Jose, Modesto Symphony, Opera Parallèle, Merced Symphony and Symphony Napa Valley.  He performs regularly with the San Francisco Opera and Ballet and records film, video game, and television soundtracks with the Skywalker Symphony Orchestra. Frequently featured as soloist with the Sacramento Philharmonic and Modesto Symphony, Flanagan has also performed with the American River Chamber Orchestra, Bear Valley Symphony, Reno Baroque Ensemble, UC Davis Symphony, and the Adelphi Chamber Orchestra.
As a chamber musician, Flanagan has performed with the Chamber Music Society of Sacramento, the Oregon Bach Festival, Earplay, Melody of China, Midsummer Mozart Chamber Players, Gold Coast Chamber Players, and has collaborated with pianists Leon Fleisher and Jon Nakamatsu.  A founding member of the Farallon Quintet, with whom he has performed throughout Northern California, he commissioned and premiered numerous works, several of which can be heard on their CD, "Farallon Quintet Originals."  As a member of the Eco Ensemble, he performs regularly at Cal Performances, performed at La Biennale in Venice, Italy, and was featured in Strings Magazine.  He recently founded Trio Solano, an award-winning ensemble that performs new music and standard repertoire throughout the San Francisco Bay Area.

Dan's compositions have been heard throughout the SF Bay Area and beginning in the 2022-23 season, throughout the world.  He has been commissioned by International Arts Educators Forum, Trio Solano, Farallon Quintet, Hunter's Point Shipyard Artists, Gold Coast Chamber Players, the Swedenborgian Church of San Francisco, and numerous colleagues, including Bruce Chrisp and Gabrielle Wunsch, Julie Kim, Etienne Rolin, and Jay Stebley.  In 2021 he received a grant from InterMusic SF to make a video of his composition "Ehrlichia," Rhapsody in Discomfort #6, which is available to view on Youtube and brought catharsis to thousands of Lyme Disease victims.  In 2022, he was awarded a Silver Medal for "Ehrlichia" by Global Music Awards.
Flanagan plays on a violin made in 1840 by JB Vuillaume, once owned by the celebrated American virtuoso Albert Spalding, and he collects original artwork by French Impressionists and contemporary California artists.  His extensive collection of antique concert programs and photos has been presented at numerous universities and was featured in a documentary on the legendary Czech violinists for Czech Television.
In addition to teaching at University of California, Berkeley, Dan was Lecturer of Violin at University of California, Davis, from 2007 to 2017.  In 2008, Dan founded Sacramento School of Music, where he served as Director and Instructor of Violin until 2014.  He is a member of the American Federation of Musicians and American String Teachers Association.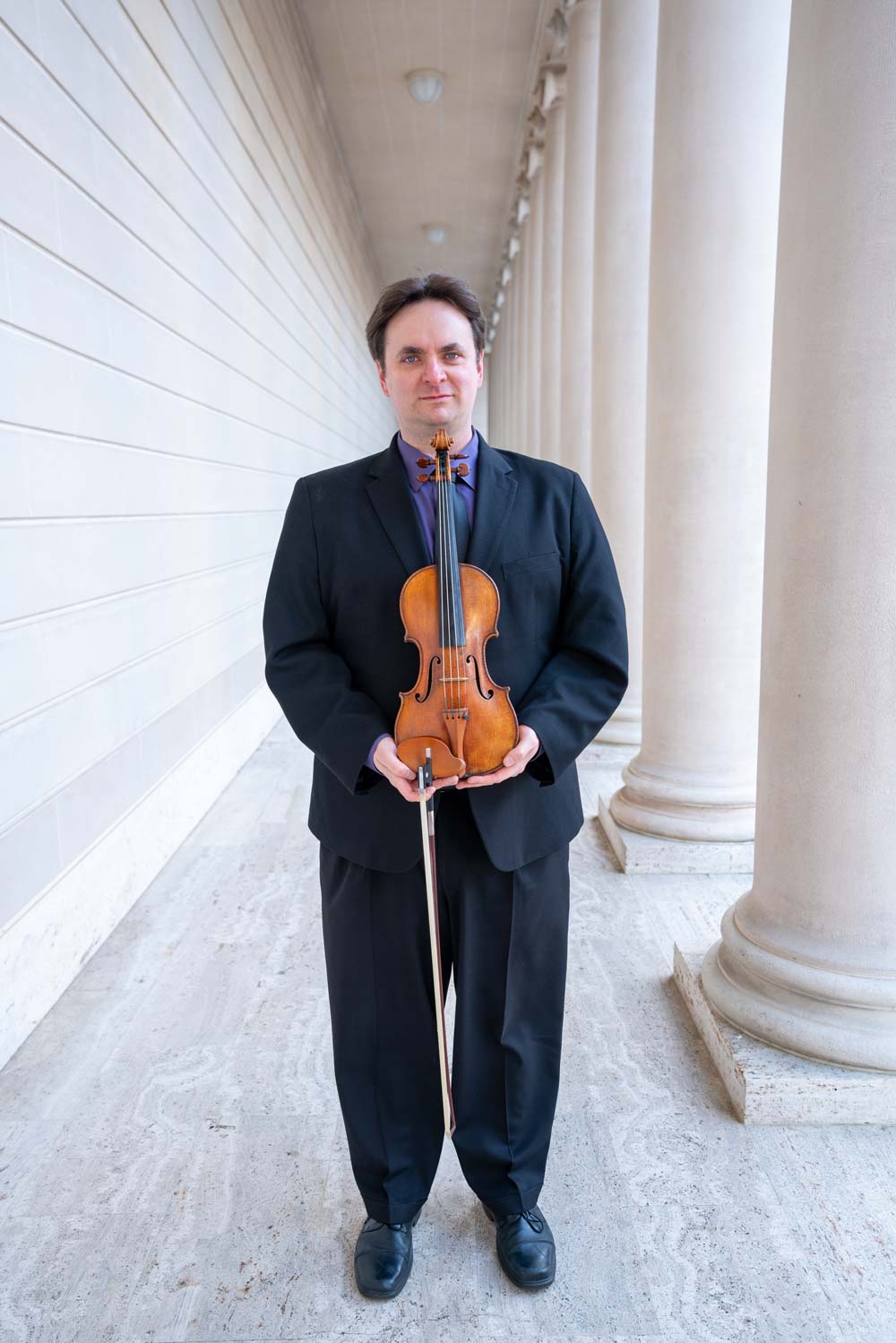 Early studies were in New Jersey and New York City, followed by high school at Interlochen Arts Academy. He holds a Bachelor's Degree from the Cleveland Institute of Music and a Master's Degree from the University of Oregon, where he was a Graduate Teaching Fellow.  His teachers include Lewis Kaplan, Hal Grossman, Linda Cerone, Charles Castleman, and Fritz Gearhart.
In addition to promoting living composers and artists of diverse backgrounds, Dan is passionate about helping his community.  He regularly features his art collection to host fundraisers for charities and collect supplies that he passes out at homeless encampments.  Past fundraisers include Puerto Rico Relief Fund, California Fire Relief Fund, Berkeley Food and Housing Project, No Kill Advocacy Center, Hunters Point Shipyard Artists, InterMusic SF, and LymeDisease.org.
Nathaniel Stookey: Shadow Breaking, after the painting by Rachel Dwan
Peter Josheff: Same Old Sadness, after a painting by Peter Canty
Michael Panther: Oil on Canvas, after a painting by Paul Gibson
Libby Larsen: The Only Way Through is Slow, after a painting by Nikki Vismara
Trevor Weston: Notre Dame au milieu de l'eau et du ciel, after a painting by Albert-Marie Lebourg
Jim Stephenson: Guillaumin, after a painting by Armand Guillaumin
Evan Price: Blue Swan, after a sculpture by Sean O'Donnell
Cindy Cox: Into the Light, after a painting by Victoria Veedell
Shinji Eshima: The Collection, after a painting by Paul Gibson
Eric Schwartz: Placed Into the Abyss, after a painting by Paul Gibson
Edmund Campion: Splits (Le Grand Ècart), after a pastel drawing by Ludovic-Rodo Pissarro
David Mecionis: Couple au lit, after a painting by Jean-Louis Forain
Linda Marcel: Raven's Dance, after a painting by Nina Fabunmi
Maija Hynninen: Island, after a painting by Elaine Pratt
Jose Gonzalez Granero: Cadenza II, after a painting by Robert Antoine Pinchon
Emily Onderdonk: Arredondo, after a mixed media collage by Carrington Arredondo
Jacques Desjardins: Émergence, after a painting by Susan Bostrom-Wong
Catherine Neville: Danses, after the lithograph by Henri Fantin-Latour
Catherine Neville: Idyll, after a painting by Paulémile Pissarro
Jessica Mays: And miles to go…, after a painting by Albert Malet
Amadeus Regucera: Violin Concerto TBA, to be completed 2023-24
Sebastian Kelso: TBA, after a painting by Bernard Gussow
"I can enthusiastically recommend Dan Flanagan as a performer and teacher. He is a thoughtful and dedicated musician who is very easy to work with."